Our pretty pumpkins turned into Jack-O-Lanterns. Our children into characters… a day filled with excitement in anticipation of CaNdY & Trick-or-Treats!
Abbie spent the evening with her friends. They spent enough time trick-or-treating to get a bucket filled with treats and a toothbrush! Then the girls spent the rest of the evening hanging out & having fun together.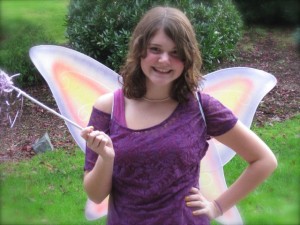 James decided to retire the vampire and head out as a Fly Fisherman. It was awfully cute to see him lugging the giganormous bucket door to door.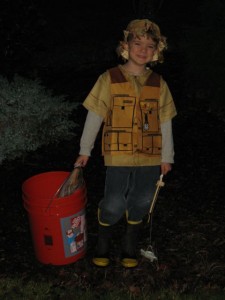 James was dealing with an ear infection on this night and was excited about going out… we decided to head to the high school where he could be warm & cozy indoors and knock on lots of classroom doors!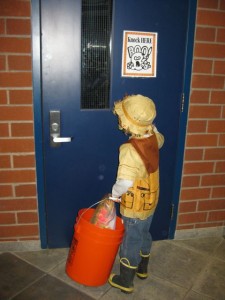 These are some of Abbie's friends who handed out candy dressed as volleyball players.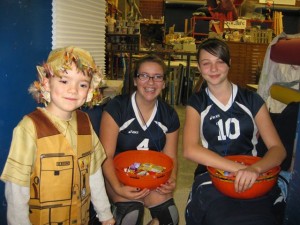 When James knocked on this door he was tricked or rather treated by Miss Ebie!! Miss Ebie is the owner of Country Friends, the school James has attended for the past 3 years. What a fun surprise to see Miss Ebie.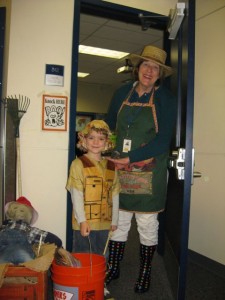 I had to get into the photos cause I dressed up too!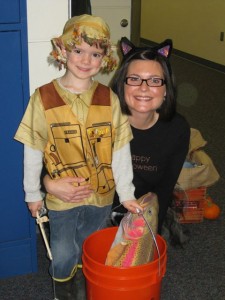 Our Jack-o-Lanterns lit up our front walk well. They were quite creepy!
Abbie's Cyclops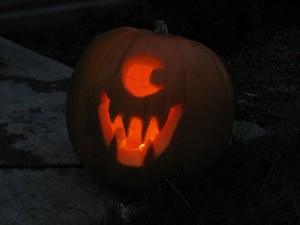 James' Creepy-Creeper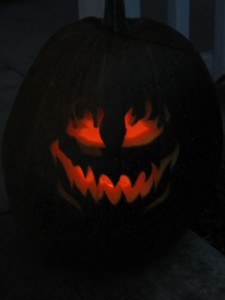 Josh's Mischief Grinning Pumpkin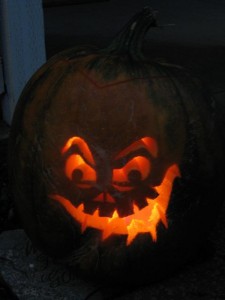 Stacie with the Fall Leaves Pumpkin… we can't all be scary!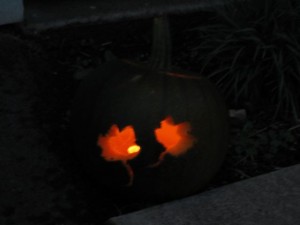 A frightfully~fun evening.